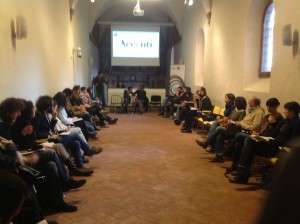 Dopo il primo incontro operativo dello scorso febbraio (leggi il diario di bordo) sabato 4 maggio a Firenze si terrà il secondo appuntamento di 'Accenti – autonomi racconti di Giovanisì', progetto che vuole raccontare quello che è nato e nascerà dalle esperienze fatte con Giovanisì. Un prodotto che racconterà – e inviterà a raccontare – uno, cento, mille carriere e percorsi di giovani toscani.
Nel corso di questi mesi gli scrittori e i giovani si sono incontrati e hanno dato vita alle storie che faranno parte del libro di Accenti (leggi gli incipit delle storie nella pagina dedicata).
Nella mattinata di sabato 4 maggio l'Auditorium di S.Apollonia a Firenze ospiterà un nuovo incontro tra il cantautore Niccolò Fabi (supervisore artistico del progetto), i 10 giovani scrittori toscani autori dei racconti del libro (Simona Baldanzi, Cosimo Calamini, Laura Del Lama, Ico Gattai, Emiliano Gucci, Ilaria Mavilla, Sasha Naspini, Lindsay Paiva, Matteo Salimbeni, e Vanni Santoni) i 40 giovani beneficiari protagonisti delle storie e Federico Bondi (regista del video che racconterà il making of del format) .
A seguire alle 12 il Presidente Enrico Rossi incontrerà tutti i protagonisti di Accenti e terrà insieme a Niccolò Fabi una conferenza stampa di presentazione del progetto.
Nel corso dei prossimi mesi, il progetto diventerà anche:
• un libro con le storie di 30 beneficiari di Giovanisì raccontate da giovani scrittori toscani;
• un blog contenitore delle storie pubblicate nel libro ma anche di altre storie di giovani che avranno voglia di raccontarsi
• una serie di eventi pubblici organizzati come in un vero e proprio tour (presentazioni, concerti, ecc),
• un video che racconterà il making of del format e alcune delle storie del libro.
Stay tuned…
Vai alla pagina dedicata di Accenti – autonomi racconti di Giovanisì