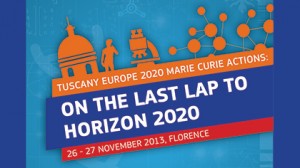 "A Firenze si fa Europa con la ricerca: 400, nella città del Rinascimento, i ricercatori europei che si confrontano su ambiti strategici per il nostro futuro". Così Stella Targetti, oggi pomeriggio al Palaffari di Firenze, aprendo "On the last lap to Horizon 2020", conferenza europea dei giovani ricercatori impegnati nel programma "Marie Curie". Per due giorni, su iniziativa di Regione Toscana e Commissione Europea, si confrontano a Firenze anche in vista del nuovo programma europeo ("Horizon 2020") sulla ricerca; un programma speciale per sostenere, in sette anni, ricerca e innovazione con un budget totale da circa 77 miliardi di euro.
Ricordato come il "Marie Curie", iniziativa che supporta e finanzia la mobilità europea dei ricercatori, abbia contribuito in modo forte alla costruzione di uno spazio europeo della ricerca ("una scala dimensionale, quella europea, che è la minima necessaria se vogliamo costruire processi di generazione di nuova conoscenza e innescare processi di innovazione competivivi con altre aree del mondo"), Stella Targetti, portando il saluto della Regione Toscana, si è augurata che "in questi giorni possano nascere nuove sinergie e opportunità per la ricerca toscana ed europea. Queste persone – ha aggiunto riferendosi ai circa 400 ricercatori da tutti i Paesi UE – sono il nostro miglior investimento a garanzia di un futuro di sostenibilità economica, sociale, ambientale e di democrazia per l'Europa. Vanno sostenuti, nel loro percorso professionale, con più fatti".
Dopo i saluti istituzionali (oltre a Stella Targetti hanno parlato il rettore Alberto Tesi e, per la Direzione Generale Cultura della Commissione Europea, Alessandra Luchetti), il programma del pomeriggio ha ruotato su 6 testimonianza dall'eccellenza della ricerca toscana.
Ciò che all'Università di Firenze si studia per la cura dei disturbi nefrologici (Paola Romagnani) e come all'Università di Pisa si lavora con un robot, chiamato "Da Vinci", per interventi di chirurgia (Ugo Boggi). Come, sempre all'ateneo pisano, si collabora ai grandi progetti sulle particelle nucleari (Guido Tonelli) e come nello stessa università (Giuseppe Iannaccone) si contribuisce alla ricerca avanzata sul grafene per le nuove frontiere delle nonatecnologie.
E mentre il fitobiologo Stefano Mancuso (Università di Firenze) ha raccontato l'intelligenza delle piante, l'antropologo Maurizio Bettini (Università di Siena) ha fatto ascoltare "la voce" dei grandi monumenti classici interpretata non solo sulla memoria "storica" ma anche su quella "collettiva" delle generazioni di visitatori che li osservano.
La conferenza di Firenze prosegue domani, mercoledì 27 novembre, con un focus sulla collaborazione nella ricerca fra mondo accademico e industria cui segue una sessione su big data e data mining oltre a iniziative parallele proposte dal sistema toscano della ricerca.
NB)– Alle ore 10:30 di domani, mercoledì 27 novembre, al piano terreno del Palaffari (piazza Adua), quattro giovani ricercatori (due italiani, un indiano, una portoghese) impegnati nelle "azioni Marie Curie" saranno a disposizione dei colleghi, insieme alla vicepresidente Stella Targetti, per raccontare le loro storie e l'oggetto delle rispettive ricerche.
Questi i loro settori: le tecnologie biofotoniche per sfidare il morbo di Alzheimer, l'ingegneria biotecnologica per studiare le cellule tumorali in particolare per il cancro nel pancreas, l'ingegneria biologica per affrontare l'obesità nei bambini, l'ingegneria delle telecomunicazioni per lo sviluppo di nuove tecniche nella banda targa di quinta generazione.
Comunicato stampa di Mauro Banchini, Toscana Notizie