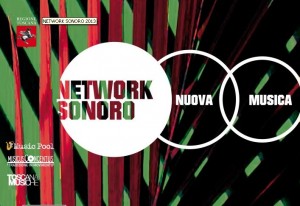 Network Sonoro, il coordinamento di concerti e attività musicali che nasce dalla collaborazione tra Music Pool, Musicus Concentus e la partecipazione di Toscana Musiche, realizzato con il contributo della Regione Toscana, prosegue il suo percorso con una nuova serie di appuntamenti musicali e diffonderà nuova musica in Toscana fino al prossimo febbraio 2014. Si conferma l'importante collaborazione con Fondazione Toscana Spettacolo per la proposta di "Giovani Live!", che affianca alla musica spettacoli di teatro e danza, con proposte animate da artisti e compagnie italiane rivolte alle nuove generazioni. Tante le musicalità contemporanee presenti nel cartellone: jazz, nuova musica elettronica, nuove forme della canzone, proponendo maestri affermati e giovani emergenti.
Con otto edizioni alle spalle Network Sonoro si conferma presente e radicato sul territorio di tutte le provincie della Toscana, con un'azione che tocca i grandi e i piccoli centri, e diffonde le sue proposte tanto nei teatri all'italiana come negli auditorium e nei club, e conta sulla partecipazione di Comuni, associazioni ed enti in crescente adesione. "Una appuntamento che risponde al mutare delle richieste del pubblico e che riesce a toccare ampie zone della regione con proposte di qualità grazie alla riuscita collaborazione tra associazioni e istituzioni a tutti i livelli" dichiara l'assessore regionale alla cultura Cristina Scaletti.
Gli appuntamenti di Network Sonoro sono articolati in vari capitoli realizzati da Music Pool, Musicus Concentus, Toscana Musiche, in collaborazione con altre rassegne e festival: la proposta prevede tanto l'ospitalità e la distribuzione di eventi, con numerose anteprime ed esclusive, così come le produzioni originali, in questo caso il nuovo repertorio di Tuscan Landscapes; Banditaliana di Riccardo Tesi, il concorso T- Rumors dedicato ai giovani musicisti e compositori attivi in Toscana, lezioni concerto riservate alle scuole, incontri con gli artisti.
Individuato e finanziato come progetto regionale per la nuova musica in Toscana, in Network Sonoro confluiscono anche le risorse e il sostegno di cui i tre soggetti dispongono attraverso la loro rete istituzionale, Ministero per i Beni e le Attività Culturali, Ente Cassa di Risparmio di Firenze, Comuni di Castelnuovo Berardenga, Cecina, Firenze, Grosseto, Livorno, Massa, Montemurlo, Montevarchi, Poggibonsi, Quarrata, San Casciano, San Giovanni Valdarno, Vicchio.
A esse si aggiungono le collaborazioni con ARCI, Associazione I – JAZZ, Associazione Timbre, Associazione Valdarno Jazz, Atomic Events, Circolo Palomar, Decibel Eventi, Fondazione Toscana Spettacolo, Eventi, Jazz Club of Vicchio, MDC Events, Osservatorio Per Le Arti Contemporanee Ente Cassa Di Risparmio Di Firenze, Polo Museale Fiorentino, Scuola di Musica di Poggibonsi, The Cage Theatre, Unica Cooperativa Di Abitanti.
Comunicato stampa di Toscana Notizie