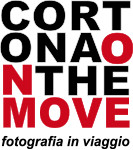 Da luglio a settembre toscani e turisti potranno utilizzare i social network per scoprire e far scoprire le meraviglie paesaggistiche e culturali della regione. Per partecipare al progetto, che si chiama ShareyourTuscany ed è legato al Festival Internazionale di Fotografia Cortona On The Move – fotografia in viaggio in programma nella città toscana dal 18 di luglio al 29 di settembre 2013, basterà scattare una foto con il cellulare, geolocalizzarla e condividerla su Instagram, Twitter e Facebook utilizzando l'hashtag #ShareyourTuscany, generando così un flusso di immagini che verranno proiettate 24 ore su 24 nel corso della manifestazione.
"Cortona si è posta al centro di attività culturali di grande livello, e tra queste Cortona on the Move viaggia decisamente nell'eccellenza – ha sostenuto stamani l'assessore regionale alla cultura Cristina Scaletti presentando l'iniziativa insieme al sindaco di Cortona Andrea Vignini e agli organizzatori Antonio Carloni e Arianna Rinaldo -. Condivido in pieno l'obiettivo di far conoscere ogni angolo della Toscana, compreso quelli che di solito appaiono meno. Lo strumento web gestito direttamente dai viaggiatori è un perfetto elemento di condivisione, in linea con la politica turistica che stiamo cercando di sviluppare. Le foto racconteranno una Toscana meno formale perché vista direttamente attraverso gli occhi dei turisti, intercettata in modo inusuale e sicuramente intrigante".
Il turista potrà dunque entrare a far parte in modo divertente e spensieratodi un flusso di immagini, di una narrazione che racconterà la Toscana nelle sue eccellenze, dal vino ai paesaggi, dai borghi alle città d'arte, dai monumenti al folklore. Cliccandopoi su #ShareyourTuscany l'utente
potrà viaggiare in tutta la regione dal proprio telefonino, e scoprire ciò che altri utenti hanno apprezzato e condiviso.
Comunicato stampa di Dario Rossi, Toscana Notizie