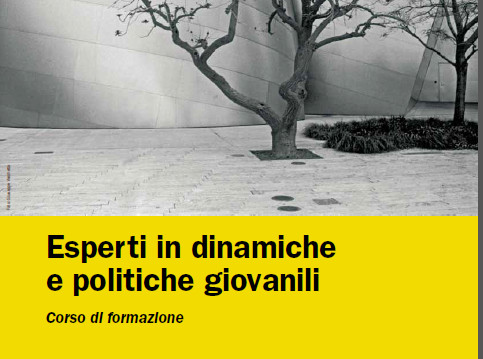 Giovedì 18 luglio 2013 Giovanisì interverrà al corso di formazione "Esperti in dinamiche e politiche giovanili" promosso dalla Provincia autonoma di Trento.
Presentazione
I Piani Giovani di Zona e d'Ambito rappresentano ormai una realtà consolidata, ma nello stesso tempo in continua evoluzione. Oltre alla struttura provinciale dell'Agenzia per la famiglia, la natalità e le politiche giovanili – Ufficio politiche giovanili, è il Tavolo del confronto e della proposta sulle politiche giovanili che rappresenta il focus dell'azione di ogni singolo Piano. Secondo i criteri approvati dalla Giunta provinciale il Tavolo promuove, all'interno del proprio territorio, la cultura delle politiche giovanili, in particolare attraverso la promozione dell'analisi dei bisogni territoriali e l'individuazione delle priorità e delle principali aree di intervento, la definizione degli indirizzi e l'assunzione delle decisioni strategiche ed operative per la costruzione e l'attuazione del Piano Operativo Giovani (POG), con la successiva formulazione della proposta operativa, relativa rendicontazione e successivi monitoraggio ed accompagnamento delle attività programmate.
Obiettivi e competenze professionali
Il corso intende formare esperti in dinamiche giovanili capaci di rispondere ai bisogni emergenti del territorio e preparati ad inserirsi in diversi contesti lavorativi. In primis quello dei Piani giovani di Zona e di Ambito, ma con un'accezione di ampio sviluppo di comunità. Pertanto i partecipanti vedranno ampliare le proprie conoscenze nel campo delle politiche giovanili, della condizione giovanile, della metodologia di lavoro di rete, dei processi e procedimenti amministrativi, della valutazione e monitoraggio, nel campo dell'educativa di comunità, sviluppo della cittadinanza attiva e della sussidiarietà. La formazione intende offrire quindi uno spaccato ampio e articolato per dare ai partecipanti l'opportunità di inserirsi nei contesti lavorativi legati al mondo giovanile quali ad esempio i centri giovanili, le cooperative sociali, i centri estivi, le associazioni giovanili.
Accreditamento al Registro RTO della Provincia autonoma di Trento
Coloro che avranno frequentato il corso base partecipando attivamente ad almeno il 70% del percorso e avranno sostenuto positivamente il relativo esame finale (le cui modalità verranno indicate durante la formazione), saranno iscritti nel Registro dei Referenti tecnico-organizzativi (RTO) della Provincia autonoma di Trento.
Sede di svolgimento
Le lezioni frontali si terranno il giovedì dalle 9.00 alle 13.00 e dalle 14.00 alle 18.00 e il venerdì dalle 9.00 alle 13.00 presso tsm-Trentino School of Management, in Via Giusti 40 a Trento. La logistica delle Company visit verrà comunicata con i dettagli una volta definita l'organizzazione
Costi
La Provincia autonoma di Trento, Agenzia per la Famiglia, la natalità e le politiche giovanili – Ufficio Politiche giovanili sostiene i costi del corso e dei trasporti durante le visite guidate.
Gruppo di coordinamento
Direttore del corso: Francesco Pancheri, Direttore Ufficio Politiche giovanili della Provincia Autonoma di Trento
Coordinamento: Debora Nicoletto, referente formazione dell'Ufficio politiche giovanili PAT; Stefania Martini, tsm-Trentino School of management
Gruppo di lavoro: Cristina Rensi, Ufficio politiche giovanili PAT; Arianna Bazzanella, IPRASE Osservatorio Giovani; Referenti tecnici organizzativi dei Piani Giovani di Zona e di Ambito; tsm-Trentino School of Management.
Durata a modalità di frequenza
La durata della formazione è di 64 ore d'aula. Il corso va ad integrare l'annuale formazione obbligatoria. Eventuali moduli aggiuntivi verranno comunicati nel corso dell'anno.
Info
Debora Nicoletto
Ufficio per le Politiche giovanili – APF
Via Gilli, 3 – 38121 Trento
0461.497219
debora.nicoletto@provincia.tn.it
Stefania Martini
tsm-Trentino School of Management
Via Giusti, 40 – 38122 Trento
0461.020063
stefania.martini@tsm.tn.it
Scarica il programma del corso