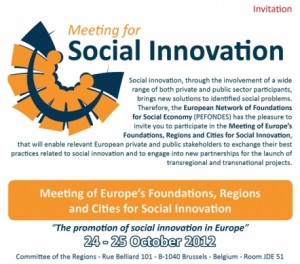 La Regione Toscana il 24 ottobre parteciperà  a Bruxelles al Meeting of Europe's Foundations, Regions and Cities for Social Innovation ("The promotion of social innovation in Europe") convegno  sull'innovazione sociale organizzato e promosso dalla Rete nazionale delle fondazioni per l'economia sociale  (Pefondes).
L'obiettivo dell'incontro è quello di discutere e di scambiare idee tra soggetti pubblici, privati ed altri stakeholders sul tema dell'innovazione sociale.
La Regione Toscana interverrà presentando il progetto Giovanisì nel workshop del 24 ottobre alle ore 14.00 intitolato " Qual'è il significato dell'innovazione sociale nei differenti stati europei?"
Quest'incontro, inoltre, sostiene anche i progetti transnazionali e trans regionali socialmente innovativi.
Info:
Pefondes
pefondes@pv.be
Per ulteriori informazioni e per scaricare il programma clicca qui