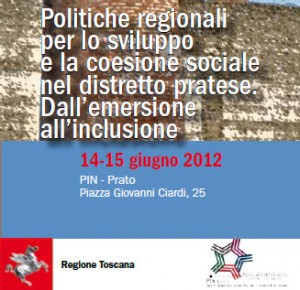 La Regione Toscana – settore Progetti integrati strategici, politiche di tutela e promozione il 14 e 15 giugno a Prato organizza un convegno dal titolo "Politiche regionali per lo sviluppo e la coesione sociale del sistema pratese".
Quando e dove:
14-15 giugno 2012, PIN – Polo universitario "Città di Prato" , Piazza Giovanni Ciardi 25, Prato.
Programma:
Giovedì 14 giugno – seminario
ore 15.00-18.00
1° gruppo di lavoro:
L'emersione delle imprese e del lavoro non regolare
Rapporteur: Annalisa Tonarelli, Università di Firenze
2° gruppo di lavoro:
Innovazione nel welfare e quartieri inclusivi
Rapporteur: Fabio Berti, Università di Siena
ore 19.30 Apericena in giardino
Accompagnata da una selezione musicale a cura di Webradio Spin
Proiezione "Codice Ivan. The city of Happiness"a cura di Fonderia Cultart
A seguire Tomme live electronics.
Venerdì 15 giugno – convegno
ore 9.30 -10.30 – Saluti
Salvatore Allocca, Assessore al Welfare e Politiche della casa Regione Toscana
Lamberto Gestri, Presidente della Provincia di Prato Rappresentante del Comune di Prato
Maurizio Fioravanti, Presidente PIN
ore 10.30-11-30 – Emergere e includere: le politiche integrate della Toscana per lo sviluppo locale
Vinicio Biagi, Regione Toscana
Annalisa Tonarelli, Università di Firenze
Fabio Berti, Università di Siena
ore 11.30-13.30 Tavola rotonda
Emergere ed includere:esperienze di ricerca a confronto
Moderatore: Nicola Sciclone, Irpet
Franca Alacevich, Università di Firenze
Ugo Ascoli, Università Politecnica delle Marche – Ancona
Marco Bellandi, Università di Firenze
Giorgio Prodi, Università di Ferrara
Manuela Samek Lodovici, Istituto per la Ricerca Sociale – Milano
ore 13.30 Pranzo
ore 14.30 Ripresa dei lavori e interventi programmati
Saluti di S.E. Zhou Yunqi, Console Generale della Repubblica Popolare Cinese a Firenze
ore 15.00 – Tavola rotonda
Sostenere la coesione sociale per rilanciare lo sviluppo locale: quali politiche? Moderatore: Giampiero Nigro, Università di Firenze
Angelo Colombo, Segretario Generale UIL Prato
Alessandro Giacomelli, Presidente di Rete Impresa Italia – Prato
Carlo Longo, Presidente della Camera di Commercio di Prato
Rappresentante dell'Unione Industriali di Prato
Conclusioni di Enrico Rossi, Presidente della Regione Toscana
Nelle sale adiacenti all'Aula magna saranno disponibili materiali sui temi dell'emersione e dell'integrazione, a cura di Regione Toscana, istituzioni locali e associazioni del territorio pratese.
Il convegno sarà trasmesso in diretta radiofonica su Web Radio Spin.
Scarica il volantino