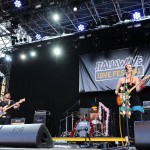 Per il quinto anno di seguito il concorso per gruppi emergenti "Italia Wave Band" supera se stesso: è di nuovo record! Si è chiusa infatti da pochi giorni l'edizione 2012 e ben 2.335 formazioni da tutto il Paese, ovvero più di 10.000 musicisti, si sono iscritti al contest della Fondazione Arezzo Wave Italia che da 25 anni scommette sulla musica giovanile.
Dalla Val d'Aosta alla Sicilia gruppi di ogni tipo – purché con repertorio originale – si sono iscritte gratuitamente tramite il sito www.italiawave.com o consegnando il materiale alle 205 "antenne" su tutto il territorio inviando alla Fondazione Arezzo Wave Italia due brani e un press-kit completo.
Una vivacità che continua a crescere nel nostro Paese, nonostante tutte le difficoltà della musica dal vivo, della formazione per una carriera artistica professionista, dei luoghi e delle strutture per suonare.
"Italia Wave Band" si conferma un successo e un punto di riferimento irrinunciabile per chi suona e vive la musica. Adesso, alle oltre 2.000 formazioni in gara, aspetta un periodo di selezioni. Ogni regione forma uno staff di ascolto, guidato dal referente territoriale della Fondazione Arezzo Wave Italia e opera una prima scrematura sulla base del materiale inviato.
La seconda fase, quella più importante, avviene tra febbraio e maggio: oltre 130 date in ogni angolo d'Italia, selezioni provinciali e la gran finale regionale. Sono concerti veri e propri, professionali, con un pubblico attento e curioso che cerca nelle nuove proposte i futuri Ministri, Zen Circus, Heike has the giggles, Waines – solo per citare alcuni vincitori degli ultimi anni – negli oltre 40 locali che ospiteranno le date organizzate dall'Italia Wave Network, rete sul territorio della Fondazione Arezzo Wave Italia, seguite e promosse dal circuito di radio locali, regionali e web "Radio Wave Italia", costituito da oltre 62 emittenti radiofoniche.
Ogni Regione decreterà la miglior band che in premio si esibirà a Italia Wave Love Festival e agli eventi organizzati dalla Fondazione Arezzo Wave Italia. Ulteriore premio tra i vincitori sarà l'assegnazione del "Premio Fondazione Arezzo Wave Italia" al miglior gruppo nazionale che per il 2011 è andato ai laziali Honeybird & the birdies (vedi foto).
Il concorso "Italia Wave band" è realizzato dalla fondazione Arezzo Wave Italia in collaborazione con i media partner XL Repubblica, Zero, Popolare Network, Jam, Insound, Next Exit e la partnership tecnica di Ufip.
fAWI – Fondazione Arezzo Wave Italia
Via Buonconte da Montefeltro 4/10 – 52100 Arezzo
tel: 0575/401714 – fax: 0575/296270
www.italiawave.com – press@arezzowave.com