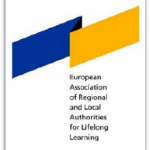 L'Associazione europea dei governi locali e regionali per l'educazione lungo tutto il corso della vita (Earlall) nasce nel 2001 a Bruxelles. Soci fondatori sono 10 regioni, fra questi la Toscana. Le altre sono: Vastra Gotaland, Rheinland Pfalz, Gloucestershire County Council, Galles, Regione della Danimarca del Sud, Madona, Governo Basco, County of Sogn og Fjordane, Baleari.
Gli obiettivi iniziali si concentrano sullo scambio di esperienze nel settore del lifelong learning e lo sviluppo di nuove forme di cooperazione transnazionale in materia. Earlall cresce velocemente e nell'ottobre 2002 ne fanno parte anche Catalogna, Murcia, Regione Marche, Andalucia, Provincia di Livorno e Provincia di Trento come soci a pieno titolo; più alcuni ossevatori. Oggi Earlall conta 22 soci e 15 osservatori (comprese le nuove adesioni). Nel corso dell'assemblea fiorentina è stata ufficializzato l'ingresso di una nuova regione, il Veneto, presente con l'assessore all'educazione, lavoro e formazione Elena Donazzan. Fra le new entry, come osservatori, le università di Bretagna del Sud e Galles e l'università per stranieri di Siena.
Per meglio rispondere alle esigenze di una associazione più grande lo statuto è stato modificato nel marzo del 2011. La maggiore novità introdotta riguarda il fatto che membri del Board non sono i singoli ministri regionali, bensí le Regioni: questo servirà a garantire la continuità del lavoro in caso di elezioni o cambiamenti nei governi regionali. Le attività di Earlall ruotano intorno all'Assemblea generale, che fin dal 2001 si tiene due volte l'anno, e al Board meeting. Da qui si sviluppano poi ulteriori attività come gruppi tecnici, gruppi di lavoro, conferenze e seminari tematici.
Uno dei primi campi di attività di Earlall è stato il confronto dei sistemi di lifelong learning nelle diverse regioni, sfociata in una serie di progetti europei finanziati dalla Commissione. Fra i progetti si possono citare: TAGS sugli stereotipi di genere, The Differences Game sull'uguaglianza di genere, Senior@Work per promuovere un mercato del lavoro basato sulla conoscenza; EUREVINQ su un nuovo concetto di apprendimento applicato alla produzione vitivinicola; ESVAC sulla validazione di competenze acquisite con la formazione; EDA EDU per formare formatori; RECNOMA per promuovere modelli innovative di governance regionale.
Le Regioni europee che fanno parte dell'associazione Earlall
Baden-Württemberg, Germany
Bretagne, France
Generalitat de Catalunya, Spain
Gobierno de las Islas Baleares, Spain
Gobierno Vasco, Spain
Jämtland County Council, Sweden
Junta de Andalucia, Spain
Östsam Regional Development Council, Sweden
Provincia Autonoma di Trento, Italy
Region Västra Götaland, Sweden
Regione Lazio, Italy
Regione Marche, Italy
Region of Southern Denmark
Regione Piemonte, Italy
Regione Toscana, Italy
Rheinland-Pfalz, Germany
Scottish Government, UK
Welsh Assembly Government, UK
Madona Council, Latvia
Pest County, Hungary
Provincia di Livorno, Italy
Vidin District, Bulgaria
Leggi anche:
Giovani e formazione in tempo di crisi: 22 regioni europee a confronto
Far muovere le persone per costruire lo sviluppo: 26 milioni di euro per la transnazionalità
Comunicato stampa di Barbara Cremoncini, Toscana Notizie