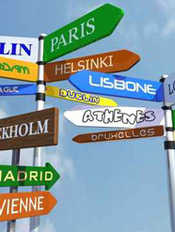 La scultura "Albero d'Europa" accoglie i post-it con le testimonianze degli studenti
Hanno lasciato messaggi in tutte le lingue raccontanto la loro esperienza in termini entusiastici: sono gli studenti che, grazie al programma di scambi internazionale Erasmus, hanno potuto trascorrere un periodo in un'università straniera. A loro il Festival d'Europa ha dedicato uno spazio speciale: "Albero d'Europa", una scultura mobile di pannelli di plexiglas che ondeggiano dolcemente all'interno del Padiglione Giovani, incorniciati da Palazzo Vecchio e dalla Loggia dé Lanzi.
Qui, i ragazzi hanno lasciato i loro messaggi spontanei scritti su dei post-it, raccontando come è stato studiare all'estero. "Erasmus si rimane per sempre, Erasmus changes your life", scrive Francesco. "Conoscere l'Europa è motivo di crescita", recita un messaggio, oppure "la mobilità europea mi ha cambiato la vita e vorrei che tutti potessero vivere esperienze simili", dice un altro post-it. Qualcuno che forse non ha potuto o non ha saputo approfittarne scrive con rimpianto: "I wish I were 18 to be so lucky (Vorrei avere 18 anni per avere questa fortuna".
Fonte: www.intoscana.it